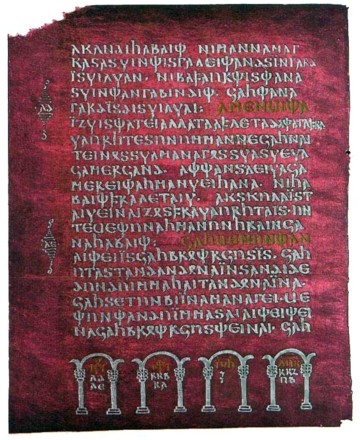 I just finished reading FINDING ATLANTIS by David King, which I highly recommend. It's the great true story of a man who thought he'd discovered Atlantis in Sweden. I loved the hell out of it even though I don't think he was right. (I don't think the author believed in this theory, either.) While reading this book, however, I came upon something that ripped my heart out, and I know it would pain any of my fellow bibliophiles.
Ever hear of the Silver Bible? It's a Gothic translation of the gospels of the Bible. It was taken from the Goths in battle, and it was eventually (over the course of centuries) brought to Sweden where it is kept until this very day. It's a very valuable book, as there is only one copy in the world. The keeper of the Silver Bible thought it was so valuable that he figured he'd sell it by the page.
THAT'S RIGHT. HE TORE OUT EVERY PAGE WITH THE INTENTION OF SELLING THEM TO DIFFERENT BUYERS AT HIGH COST.
That's absolutely disgusting behavior. He was a librarian, so he should have known better. But according to King it would seem that a lot of librarians back then were unscrupulous sorts. Still, it hurts just thinking about that. Luckily the chancellor of Sweden (known, incidentally, as "the most beautiful man in the world") at the time managed to buy up most of the pages, so we have a good deal of the book today. But it's not complete, all because of that dickhead librarian.
Fate wasn't done with the Silver Bible, though. A scholar along the way changed the wording of some passages to make it fit his theories. No one knows who did it. Everyone has their suspicions, but whoever it was, he's a dickhead, too.
And then there are the assholes who broke into the university library in the 1990's and stole the whole thing. It was eventually recovered, but still. Come on.
(It should also be noted that the Silver Bible was almost lost to the sea during its transport to Sweden from Prague. Apparently the only thing that saved it was being locked in a sturdy oak chest.)
So yeah. If you happen upon some ancient text, like there's only one of it in the world, try not to tear it to pieces and sell it page by page. That's dickhead behavior, and some guy like me will call you out on it centuries from now.