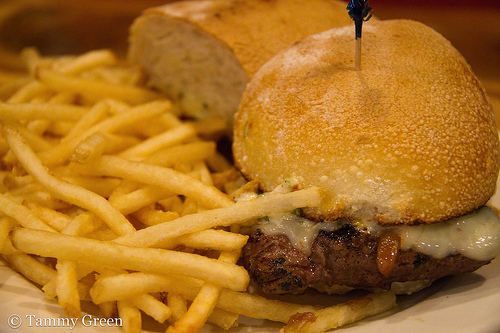 From the outside, it doesn't look like much. It's just a small restaurant in Hyde Park near the university. In fact, it's a popular hang-out for the students, but since the fall semester hasn't begun yet, there is no crowd. There is no wait to get in and get a seat. The steps to the upstairs portion of the restaurant is roped off, but undoubtedly, it will be open near the end of the month to accommodate the customers.
There are a few small booths along the walls that can only fit two people at any given time. There are also very small tables scattered about the floor. In theory, four people can sit at them, but they're so small, two is probably more realistic. Some of them have a checkerboard pattern, where, if you think enough to bring your own set, you can probably play some chess.
The walls are covered with penciled and markered messages from previous customers. Mostly, it's people signing off that they had been there or tiny drawings. At the booths, you can see where people have actually carved their messages into the wall and the table.
On the way in, you are greeted by a statue of Lorenzo de Medici. Beyond him, many people, presumably on dates, are enjoying their meals. A customer sits alone at a booth, sketching in his pad. Near the back, a middle-aged man reads a book of poetry, smiling at some verse or other.
Glory of glories! Even though this place serves no alcohol, they have a healthy BYOB policy. You don't even have to pay for the privilege. The servers will even bring you glasses. It's a good place to bring fine beers like Fat Tire or Stella or your favorite microbrew.
But all of this is cosmetic, really. The important thing is, how is their cheeseburger? Exquisite. One of the finest in the land. It even gives the Country House a run for its money. They make their own bread, so their buns are homemade and fresh. They have high quality angus meat, nicely sized. And they have some kind of specialty mustard that really enhances the overall taste. To top it all off, their fries are the perfect compliment to the burger. They're shoestring, and they're probably made at the restaurant, just like the buns. If you are a cheeseburger connoisseur, you can't miss this place.
They're also known for their pizza, which was not consumed on this trip, but will most certainly be sampled next time. If looks are any indication, it might very well be the perfect thin-crust pizza.
The Medici isn't just a restaurant; it's an experience. Try it out quickly, though. Class is going to be starting soon, and you don't want to wait in line for this burger. [Sorry, this review was written a while ago. Class is in, and finding a seat without a wait will be next to impossible.]
Medici Restaurant
1327 E. 57th St.
Chicago, IL 60637
773-667-7394